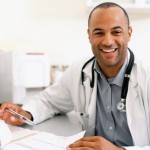 In an old cottage on an isolated island with one of my home care patients, with tears in her eyes she blessed me saying, "I have nothing valuable to give you, doctor, but please be blessed wherever you go." She was an elderly widow with severe asthma and osteoarthritis who I had visited at home every week for three years on my last visit before I left the island.
During my third year of medical school, the change from a classroom atmosphere to hands-on clinical experience on the wards motivated me in a new way. The physicians with whom I was fortunate to work inspired me.  Their patience, diligence, and dedication to their patients filled me with admiration and I learned the special importance of interpersonal skills and doctor patient interaction. I found special interest in the family practitioner's work because one uses wide range of diagnosis tools and treatment options and offers an opportunity to connect with all age group patients.
Upon graduation, I wanted to work to help people suffering from poverty and ill health, so I joined a public health service program in an isolated island Overseas. The islanders were mostly poor farmers working all day long under glaring sunlight, cultivating huge amounts of onion and garlic. I took a huge responsibility of taking primary care of about two-thousand residents as their only physician.
I saw about forty outpatients everyday and also emergency calls day and night. Each day I encountered medical cases I didn't know at first but it also served as a good motivator to study hard to become a better physician for my patients. I met a variety of fascinating patients who I would never have met in any other place and by spending many hours with them I won their trust. I will always remember their warm smiles and happiness when I ran into them outside of the hospital. They generously shared the vegetables they harvested themselves. I was greatly thankful for their friendliness, and was pleased to serve them for three years. My duties on the island gave me a new perspective on practicing medicine and on life in general. I've learned discipline and patience and it also helped me to discover my calling as a family practitioner thru providing comprehensive care. The satisfaction I gained from providing community health care and the practicality and variety of the field appealed to me.
Following this, my yearlong employment at hospitals in Seoul provided me with more hands-on clinical experience in environments including geriatric inpatient wards and emergency departments. After that I decided I wanted to complete a formal residency in the United States was because of the opportunities available in family medicine. Being able to experience a diverse patient population under the strong healthcare system and wide ranges of culture was what attracted me the most. Hungry for US clinical experience, I completed a gastroenterology externship at Big Hospital and an Internal Medicine externship at Big Town Medical Center. The work I did during those rotations solidified my skills in taking patient histories, conducting physical examinations, and diagnosing and treating a wide range of diseases. Later I completed observerships at Large Clinic State that further familiarized me with US residency programs. During this time, I attended daily rounds with residents and fellows and gained excellent exposure to how residency and fellowship works in a teaching hospital.
I believe that my clinical service in primary care overseasand my experience in several months of US hospital rotations have prepared me well for residency training. I stand ready to invest my time and energy into my residency to further complete advanced training in family medicine. After residency, I plan to pursue a fellowship in geriatrics which I have been aiming for since my public health care service years in the island. I look forward to learning and sharing ideas with fellow residents and to benefiting from their experiences and to do all it takes to become the best family practitioner I can be.