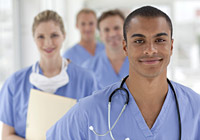 In the summer of 2002, I visited my country of birth, African Nation, for the first time in 12 years. I discovered was a war ravaged country with shelled out homes, extreme poverty and a collapsed healthcare system. Among the victims was my frail grandmother, sick severe asthma. I was deeply saddened to see her unable to breathe because she lacked access to physicians and medicines that are easily available in other regions of the world. On this trip, I realized not only how extremely fortunate I was to have escaped African Nation and sought  refuge in North America, but that I would need to return someday and serve the unfortunate and sick. My ambition to pursue medicine, which was born out of a love for the sciences, was greatly solidified by this idea. When my family relocated from Canada to Middle East City, I was thrilled to enter medical school on a comprehensive scholarship.

While at Large Middle East Medical College, I've experienced many life changing events, one of which occurred in the summer of 2007 when a bomb blast ripped through the center of Big City. Our hospital was immediately flooded with the wounded and as a 4th year student in Internal Medicine, I was suddenly handed a huge responsibility. Along with other students I triaged the wounded in the ED, admitted them and participated closely in their care for the next few days. We worked side by side with the surgical and specialist teams to find beds and treat a large number of patients. I truly felt at home on the ward, playing my part efficiently and taking up leadership when necessary in order to provide the best patient care possible within our limited resources. I enjoyed the ample patient contact of internal medicine, and the intellectual stimulation and learning experience that every new case represented. Being a logical thinker, I thrived on the internal medicine ward where I was able to correlate clinical findings with pathophysiological processes to reach an accurate differential diagnosis, a skill that is vital to an internist.
In addition, I recognized the magnitude of effective communication with patients from diverse backgrounds. My personal experiences while immersed in different cultures have given me the understanding necessary to effectively treat patients of diverse ethnicities. Social and cultural factors have a significant impact on medical decisions made by patients and being aware of this has helped me provide better care for them. I recall a particular patient on our medicine ward that suffered from intestinal TB and was discharged on a four drug regimen. A young affianced Local Country girl of nineteen, she was ashamed because of the social stigma associated with the disease and concerned about the negative impact on her future marriage. Anticipating that she would not follow up on her own, I involved her family and enrolled her in the WHO directly observed treatment program. It was a joy to see her successfully complete therapy and get married. Furthermore, I became aware of the importance of fostering lasting physician-patient relationships, and came to appreciate how incredibly rewarding it is to play such an important role in their lives.  My interpersonal skills that allow me to be an effective communicator with culturally diverse peoples is an asset that will help me be a strong and compassionate internist.
In the pursuit of gaining valuable US clinical experience, I've completed a clinical elective at Large US University School of Medicine in Major City. This hands-on experience has been an invaluable teaching lesson about the healthcare system in the US. Currently, I am a clinical observer on the hospitalist service at County Medical Center. Through case discussions, hospital rounds, morning report and noon conferences I've learned the ways in which patient management is conducted, as well as the expected responsibilities of an intern. As an internist, I will have the unique opportunity to provide intensive, all rounded care for my patients and essentially become their advocate.
In my spare time, I became a founding member of A Humanitarian and Development Committee, an organization in My City dedicated to raising donations for a hospital in African City. We've worked with sponsors and the local community to create awareness about present day African City and raised more than $20, 000 to buy medicine and medical equipment. I've also volunteered at the Youth Association of My City where I've been involved in teaching Somali youth in the inner-city about educational and social interest and providing help with homework. Furthermore, I have tutored fellow students throughout medical school, an experience that has been highly enjoyable and has led to my desire to include teaching in my career plans.
In the future, I see myself dividing my time between practice in the US and setting up a well equipped clinic in African Nation where the less fortunate have access to effective healthcare and patient education. I would also like to pursue a career in academic internal medicine educating medical students and residents. I seek a residency program that is committed to fostering an environment of continuous learning and dedicated to serving a diverse patient population.